Essential Apps to Meet Your New Year's Resolutions
Published
January 3, 2023
Essential Apps to Meet Your New Year's Resolutions
It happened. The clock struck midnight. Confetti fell to the ground. Parades were had. Pots and pans clamored on city and suburban streets alike. But now what? If you're stuck coming up with resolutions or how to accomplish them, you're not alone. Here, at Blue Ridge, we've put together our list of essential apps from the Google Play Store that may just help you create and reach your goals, because we believe we're all in this together.
1. Helping to Prioritize Your Health
If you're one of the 62% of Americans who plans to focus on your health and wellness this year, you're in luck. It doesn't matter if your goal is to eat healthier, work out more, or improve your mental or emotional state, the Google Play Store has options for you. Experts say the biggest way to stay on track is to create SMART (specific, measurable, achievable, realistic, and time-based) goals, so it's all about finding the right app to help you get there.

One of the most downloaded health apps is MyFitnessPal, where you can easily log your meals and workouts. This allows you to monitor your habits and make simple, sustainable changes. With a supportive, online community of over 200 million members, you can stay in like-minded individuals, who will keep you on track.

Getting good sleep is just as important to your overall health and well-being as eating right and exercising. You can improve your stress and sleep with the Balance: Meditation & Sleep app. With Balance, you can answer questions about your goals and preferences, and trust the app to help find a meditation that works for you. This is one app you don't want to sleep on.
2. Helping You Organize Like A Pro
One of the top resolutions each year is to be more organized. Many Americans feel that organization leads to an increase in productivity. But if filing and color coordinating aren't always the most natural for you, don't fear – there's an app for that.

We use our phones all day, every day. They're the key to our entire world, at times. Keeping your device organized can help your life feel organized. Apps like ColorNote can give you a quick and efficient way of writing down quick notes, memos, emails, messages, lists, and more, all while color-coding their priority.

Other apps like the Google One app, can offer a way to save space on your device. With Google One, you can back up your pictures, contacts, and messages to your Google cloud storage, where you can manage everything you need, all in one place. Go ahead, and start organizing.
3. Bringing Financial Stability
Imagine having an app at your fingertips that could help track your finances, share free budget planners, and allow you to crush your financial goals. You don't have to imagine with Mint. If you use the Mint app, you'll be able to track your spending, set any reminders for bill payments, and monitor your credit score and investments. You can even get personalized insights and custom budgets to help you plan. Being financially fit has never felt so good.
4. Freedom to Go Anywhere, Anytime
If your New Year's resolution includes traveling or spending more time with loved ones, Google Maps is here. With over 220 countries and territories mapped out (and hundreds of millions of businesses), you can get real-time GPS navigation, delays, transit info, nearby grocery stores, gas stations, restaurants, and more. Google Maps allows you to travel with peace of mind.
5. Helping You Stay Connected
In uncertain times, you need an app you can count on. WhatsApp, a free messaging and video calling app, is available in over 180 countries worldwide. Designed to help family and friends stay connected virtually, WhatsApp became one of the most downloaded apps in 2020, when staying connected became harder than ever. It's secure, reliable, and available when you need it – without having to sit through your uncle's favorite Thanksgiving tale. Again.
6. Letting Your Social Butterfly Soar
If TikTok is singlehandedly getting you through the Pandemic, we know the feeling. 64% of TikTok users feel the short-form, video sharing app, allows for true, genuine, and unfiltered content. With a unique and different community of over one billion monthly users, TikTok's mission is to lift spirits through entertaining trends. Be more authentically you.
7. Powering Your Work-Home Life Balance
With the influx of remote work over the last couple of years, fast, reliable WiFi is more necessary than ever. Not only do you need a strong internet connection to get you through your day-to-day work, but WiFi is essential for all the in-between moments, too. The Work-Home Life Balance moments. The building out your Spotify playlist for focus time moments. The watching streaming apps like Disney+ at lunch moments. You need WiFi you can count on. And that's where we come in with HomeFi which provides you with TrueMesh™ technology.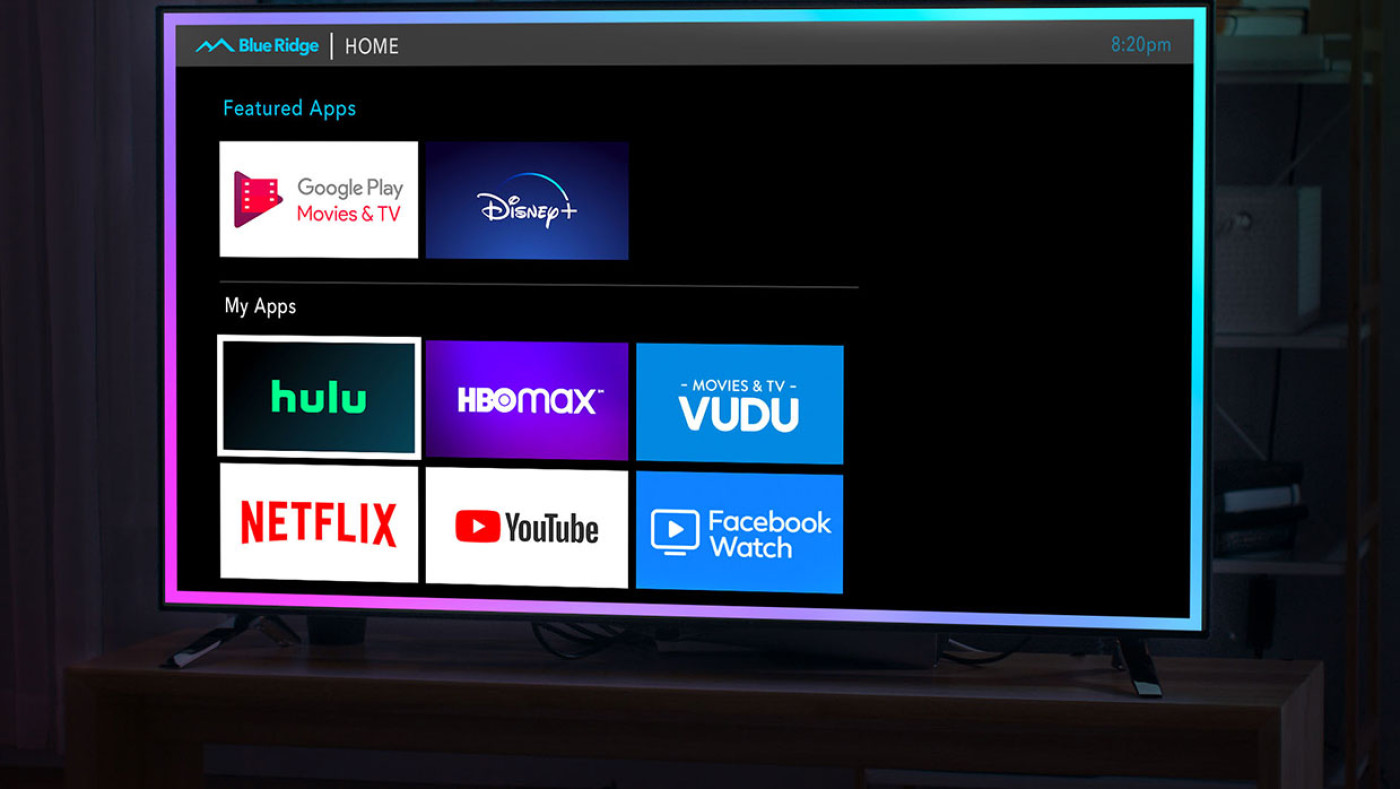 Meet Blue Ridge Stream
It's not too late to start making those resolutions and actually seeing them through this year. Technology is often a great enabler, so take a look at these apps available in the Google Play Store through Blue Ridge Stream and see if any of them push you closer to where you want to be. And from our family to yours, Happy New Year!