Tips and Tricks: My Blue Ridge App
Published
February 1, 2021
No matter which Blue Ridge services you use—or are thinking about ordering—there are plenty of reasons to download the free My Blue Ridge app, available for iOS from the Apple App Store and for Android devices from Google Play.With just a few taps, you can accomplish most common account activities from your favorite connected device.
Here are some of our favorite app features, including something brand new that we added due to popular demand:
View Data Usage
We're beyond excited to announce that our most requested app feature is now available! No more guessing how much data you've used or whether you might be billed for an overage. If you're not taking advantage of our unlimited data plans, you can rest easier knowing where your monthly data plan stands.
Now, the app shows you everything you need to know on a single screen:
Your monthly plan limits

How much data you've used in the current billing cycle

How much data you have remaining in the current billing cycle

How much data you uploaded/downloaded during the past several months
With quick, easy access to your usage information via the app, you can get a clear picture of your internet habits and better evaluate if you've got the right data plan for your unique situation.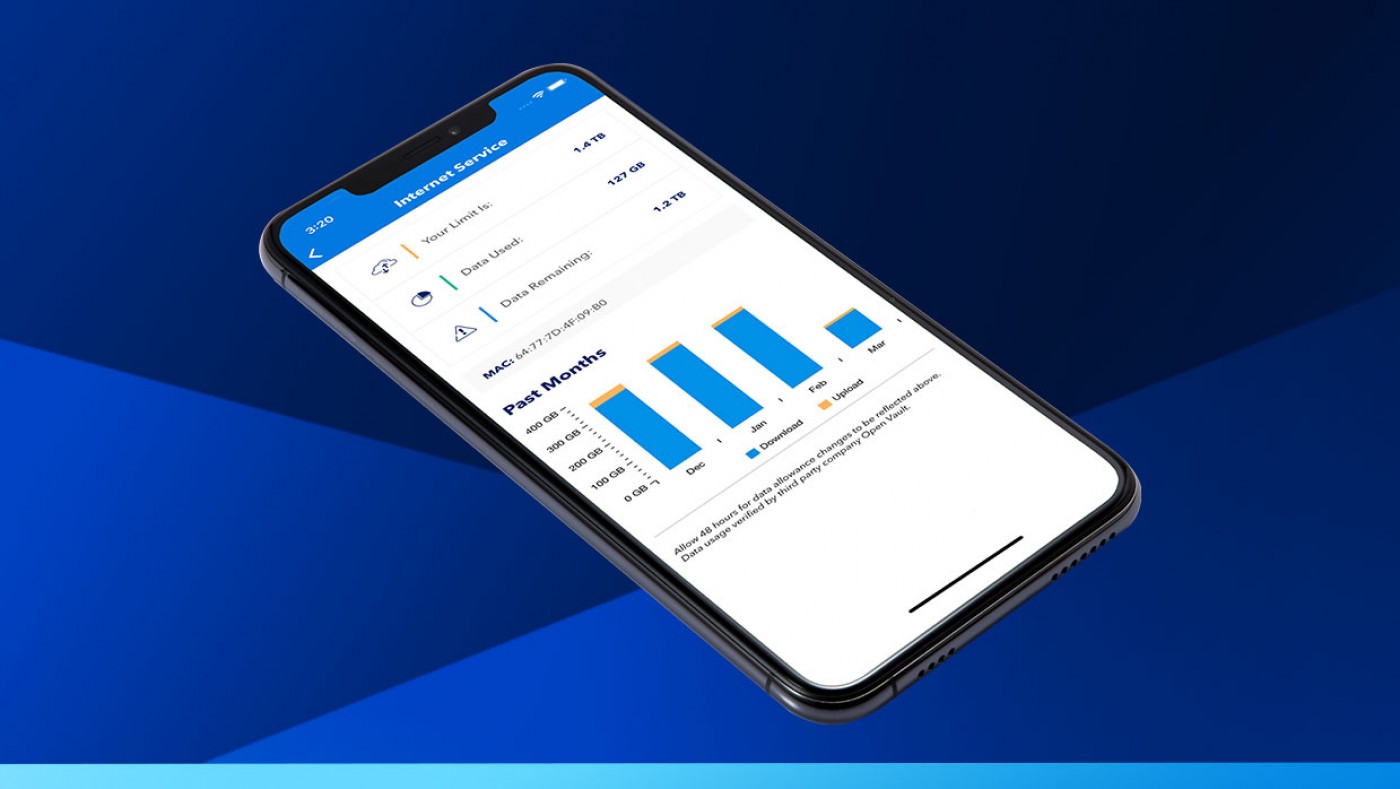 Upgrade Your Internet
If you feel that constant need for speed, or you find yourself going over your monthly data allowance, it may be time to upgrade your internet plan. Your internet needs may change over time, and we've got plenty of options designed with different kinds of households and usage patterns in mind. Shop for a new internet plan in the app and get all the details you'll need to pick the best plan for your family.
Manage Billing and Make Payments
Save time, save trees, and save stamps. When you enroll in paperless billing, you'll have one less bill cluttering up your mailbox every month, and you'll have instant access to previous months' statements. You can also pay your bill without spending your hard-earned money on postage.

For the ultimate in convenience, enable AutoPay, link a credit card to your account, and let us take care of it every month. Ever hear the phrase, "Set it and forget it"? Well, this is about as easy as it gets.

Whichever one of these sounds like an A-OK way to pay, you can take care of it quickly and conveniently in the app.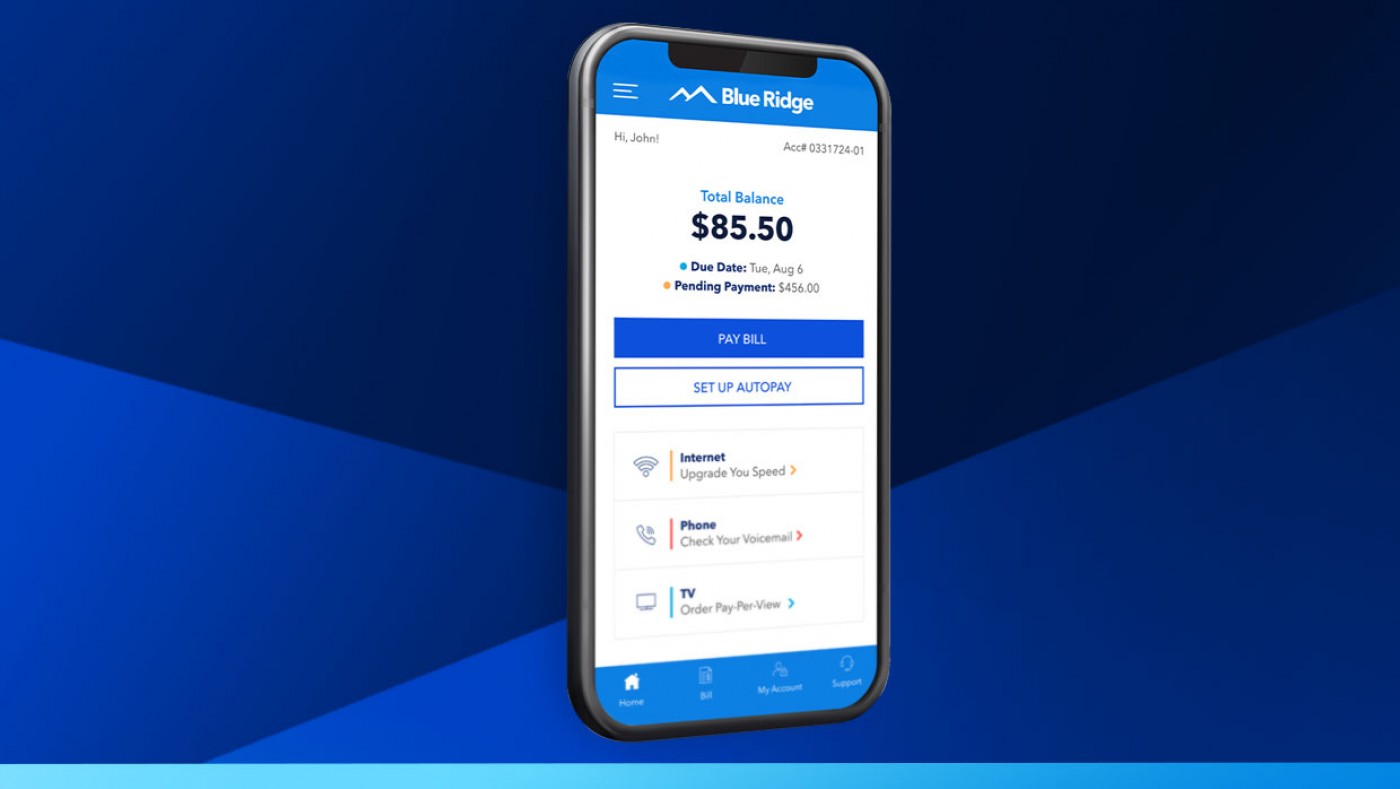 Manage Text Alerts
We offer text alerts for a variety of account management options. You can choose to receive alerts when your billing statement is ready to view and when your payments have been posted. We can also let you know when your technician is "on the way" for scheduled appointments. It's quick to setup and easy to manage in the "Account" section of the app.
Order Pay-Per-View Events
When you want to watch epic sporting events or the latest and greatest Hollywood has to offer, our enormous pay-per-view selection has the goods. Use the app to search for something specific, or take your time and browse until you find something that looks promising. When you're ready to settle in and enjoy, you can order your selection right from the app.
Chat with Live Support
If you're someone who prefers to text rather than talk on the phone, this is your lucky day! Have questions or concerns about any of your services? Give your thumbs a workout by chatting live with our friendly, helpful customer service reps through the app.
Not in any particular hurry? Positively overflowing with can-do spirit? Browse our support center and try to find the answers you're looking for yourself. If you don't have any luck, you can always open a support ticket, and we'll get you back on track in no time. We're here to help!
Check It Out Today
The My Blue Ridge app is ready and waiting to make your life a little easier, and it's only going to get better. We're constantly working on new ways to improve your experience, and we'd love to hear what you think. Why not fire up the app and chat with us right now? We'll see you online!