HomeFi with eero Secure – Internet Security Made Simple
Introducing eero Secure – Internet Security Made Simple
All new eero Secure features offer even more security and safety for working, learning, and playing from home – now included FREE with HomeFi service.

Keep your family's personal information, devices, and home network protected from threats or content they're just not ready for. Get to know all of the features, including ad block, content filtering, and more.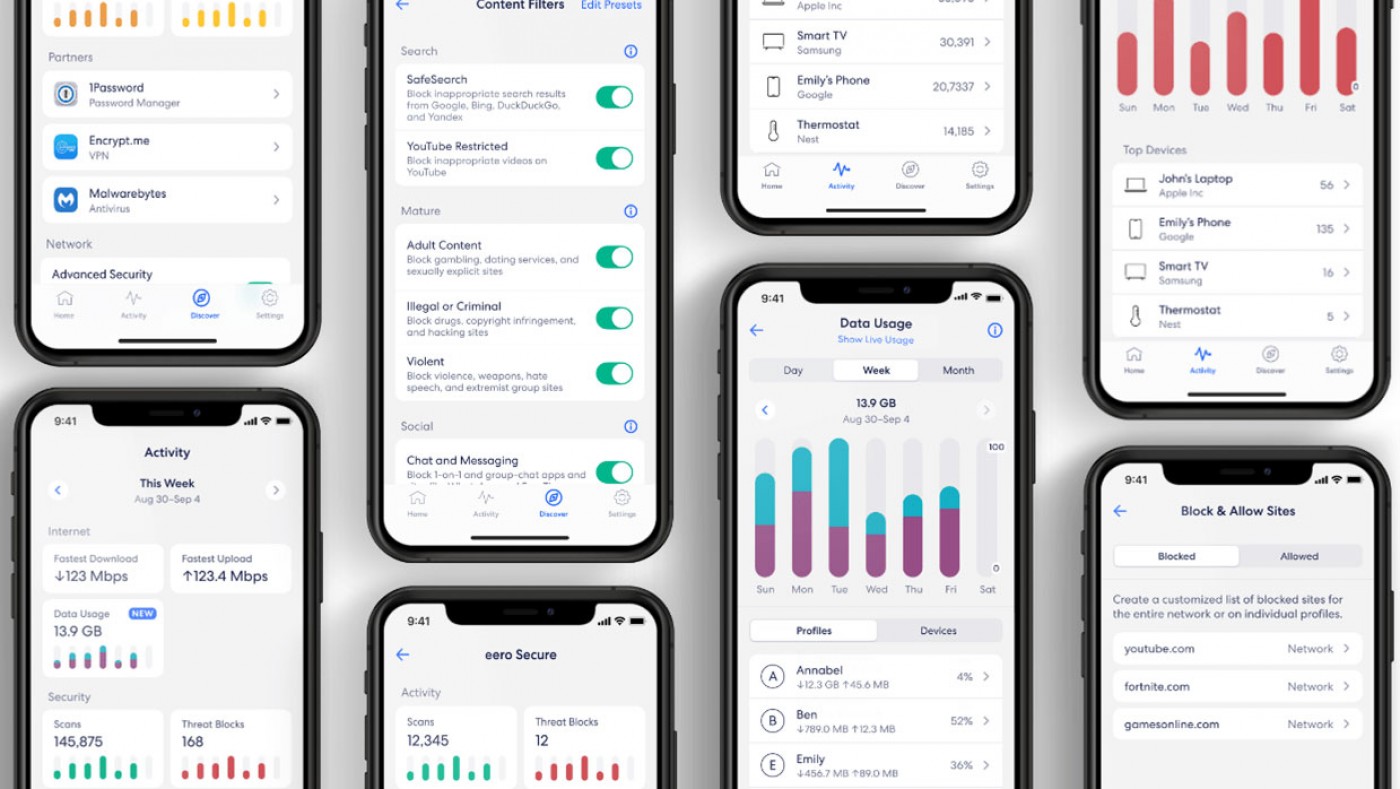 Safety and security for the connected home
WiFi is no longer just how we connect to the internet. It's how we stay connected with family, discover new things, plan our futures, and unwind after a long day. That's why we offer HomeFi. It's the combination of our internet service and eero, ensuring your entire home will be blanketed with coverage. Backed with eero's TrueMesh technology, HomeFi learns the layout of your home over time to properly route traffic and make sure dead spots are a thing of the past.. But HomeFi is more than just an amazing mesh WiFi system. It's a tool that helps you manage your connected experiences, control what content your family can access, keep your devices protected against cyberthreats, and speed up the internet by limiting ads. Whether you're working, learning, or playing from home, HomeFi helps keep you and your family safe and secure.

HomeFi with eero Secure enhances your WiFi experience with the tools you need to better manage your connected experience including advanced content filters, Block and Allow Sites, dynamic ad blocking, and historical network insights.
Get more granular control with improved content filters
There are just some things that certain family members aren't ready to see—and you can't always be there to cover impressionable eyes (or ears) when they stumble onto something scary.. Content filters help ensure that your little ones only view parent-approved websites.

With eero Secure, you can easily set restrictions for designated devices based on age group—including pre-k, pre-teen, teen, and adult—or they can be customized based on content categories. With the latest eero Secure updates, we're making content filters even better, giving parents more granular control. In addition to mature content and SafeSearch filters, we've added new filters for social media, YouTube, streaming, gaming, and more.
Introducing Block and Allow Sites
While content filters are great, sometimes you need extra control over the sites your family can and can't view. For these moments, we're releasing Block and Allow Sites. Block lets you prevent particular websites from displaying on certain family members' devices. So, if you don't mind a little social media use, but they aren't quite ready for Snapchat and Reddit, you can adjust access accordingly. On the flip side, Allow enables you to open web access to otherwise blocked websites.
Say goodbye to annoying pop-ups with Ad Block
Tired of getting a million pop-up ads when you're just trying to read an article? HomeFi with eero Secure helps improve your internet experience by blocking intrusive ads on your devices for a better, faster, and more private browsing and streaming experience. Ad Block is getting an upgrade in the latest version of eero Secure, now using a dynamic list of advertisers that is updated in real-time, giving you an even better ad blocking experience.
Identify trends and anomalies with Data Usage Insights
Smart devices using a large amount of data? See how much network data each of your eero-connected devices has been using. Subscribers get access to daily, weekly, and monthly snapshots that make it easy to spot trends and anomalies. And with access to data usage by profile, you can see how your family spends its time online so you can help them develop healthier internet habits.
It's all included with HomeFi
We're excited to introduce content filters, Block and Allow Sites, Ad Block, and historical network insights – now included at no additional cost to you with HomeFi. Check out our support center to learn how you can start using these great, new security features today with a few quick clicks in the eero app. Don't have HomeFi? Get in touch for upgrade options.