Explore The Benefits of Blue Ridge Stream
Published
September 19, 2022
Let's Talk About Blue Ridge Stream
Life is complicated - what you watch shouldn't be. If you're looking for the perfect convergence of live TV, streaming apps, and voice-powered control, all in one place, allow us to introduce Blue Ridge Stream. We believe live content should be delivered through the power of the fast, reliable internet and an experience that's intuitive. Blue Ridge Stream is your gateway to, and tour guide of, a vast content universe – untethered by the cord. It's a curated experience that leverages Android TV, TiVo, and Blue Ridge live TV. Let's talk benefits of our next generation solution right here.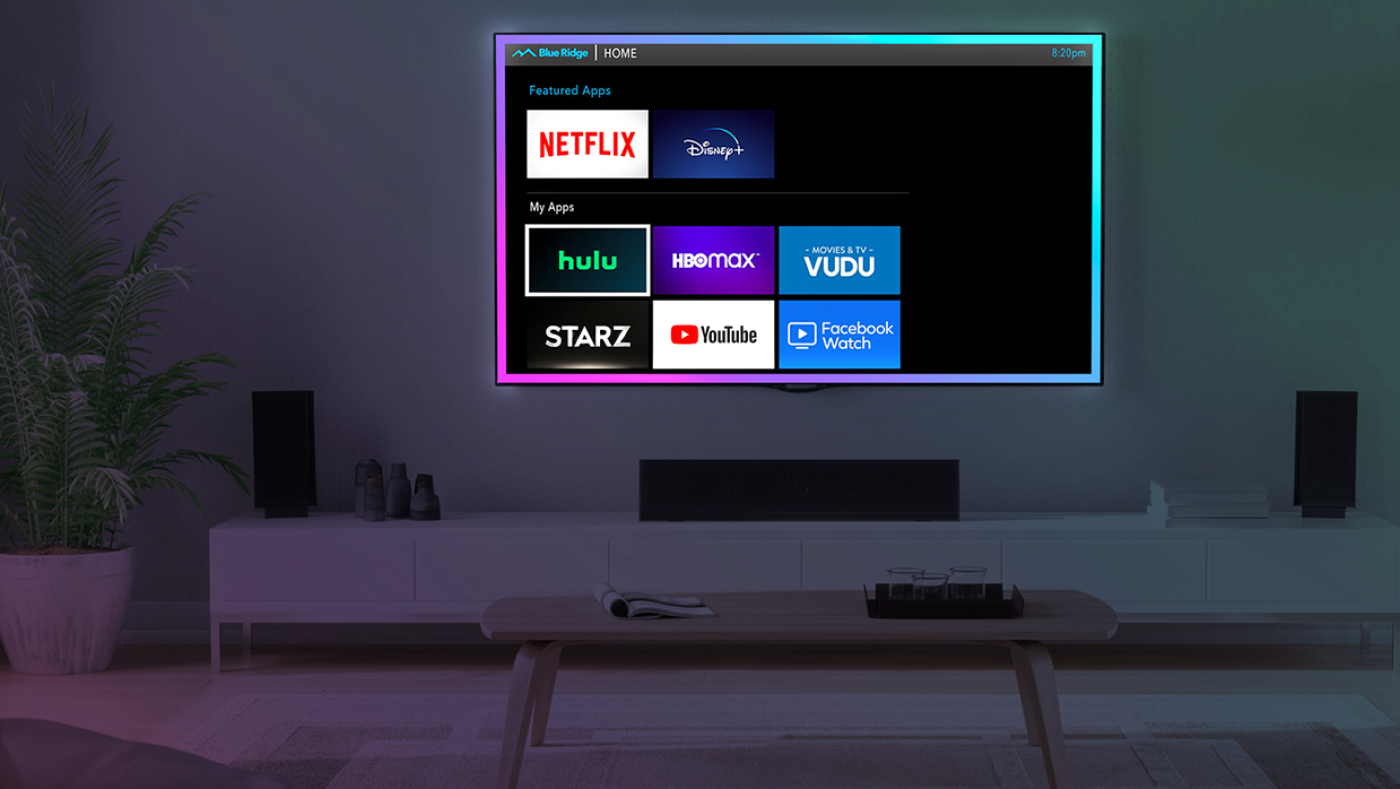 1. It's Cost-Effective and Efficient
IPTV is the way of the future. Switching to IPTV offers benefits for everyone. For us, it's a more cost-effective and efficient way to deliver live TV to your home. There's less maintenance and it's easier to troubleshoot issues. For you, it's a WiFi-enabled live TV experience that doesn't rely on a bulky setup and a cable cord to function.
2. More Access to Streaming Apps
Built on top of Android TV and powered by our ultra-fast, reliable internet, you can seamlessly switch between apps, recordings, and live programming. And you can use your Google assistant to do it. This creates something that competes with anything else available. Welcome to a world of possibilities.
3. Blue Ridge Stream Fits Any Lifestyle
No matter how you choose to watch content, we've got you covered with Blue Ridge Stream. Live TV, recordings, and streaming apps come together in an experience designed with you in mind.

But, if you're already comfortable with your smart TV platform and just want live TV, you can download the Blue Ridge Stream App through the Google Play store on Android TV, the Apple store on Apple TV, and the Amazon store through fire TV. Basically, only one box is required per household as part of your subscription, so you can just download the app on your additional smart TVs. Yes, we're really that flexible.
4. A Sleek Setup
The days of bulky set-top boxes are no more. Blue Ridge Stream is contained in small, elegantly designed hardware. It's unintrusive, easily movable, and pairs with WiFi so you can Blue Ridge Stream anywhere in your house you have a signal.
Wrap Up
Blue Ridge Stream is the intersection of everything you watch. Freedom to watch what you want, when you want, and where you want. Everything is delivered through ultra-fast, reliable internet from Blue Ridge. We're cutting the cord for you. There's a universe to explore.
Get in touch to switch to Blue Ridge Stream.